Island Dine-Out 2016#4
NOTE the importance of a Booking AND the Wednesday 5th October cancellation date.
Next Dine-Out - 2016#4
The next Island Dine-Out has been organised, and will be a the same successful venue as 2016#3.
On Friday 7th of October from 6.30pm we will be going to Daleys Kitchen - the new cafe at the Cove Village traffic lights, and beside the new childcare centre.
Sue has kindly closed her Café to the public to allow the Island Residents to enjoy time together. So let's get behind our Community and support Sue and her new business.
Menu will be $30 pp for a set 2 course meal - a choice from three mains and three deserts, and includes tea or coffee.
There will also be a children's menu - under 12 yo.
The menu is shown below.
There will be BYO with no corkage.
Limited seats are available for this special Island Dine-Out so an RSVP is required sooner to Helene Cornwell at helene.cornwell@optusnet.com.au
Parking is available, however carpooling is always an option with a designated driver - or even walk!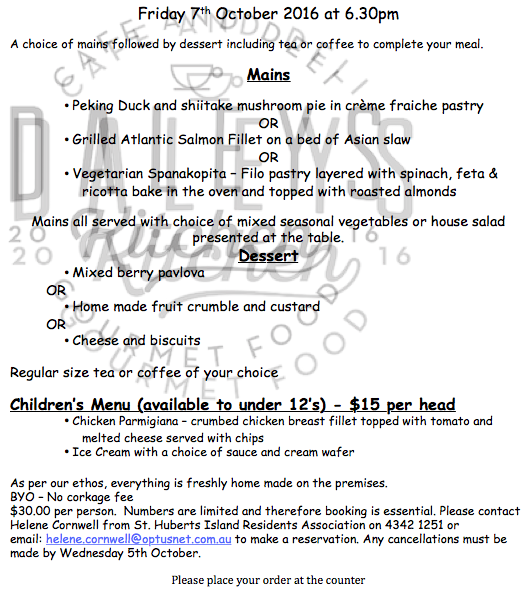 ---
Report
There were 50 people present and all went very well with lots of friendly socialising.
Sue's new & creative menu (as shown above) was much appreciated by everyone, and the lovely warm evening allowed many to eat at the tables outside and watch the sunset.
Next Dine-Out [2017#1] is Friday 17th February 2017 @ Daleys Kitchen with ANOTHER new menu.
(No photos were discovered for the night. If anyone has some, please email them to the webmaster.)