A community website providing information to both Islanders and visitors
HELMSMAN BLVD TREE REMOVAL AND PROPOSED ROADWOKS
There has been a bit of talk about the tree removals in Helmsman Blvd. SHIRA has contacted the Council about the tree removals and had talks with their engineer Dane, who advised:
Council are about to do major road works in Helmsman Blvd from the bridge to Mainsail. The pavement is badly damaged and deteriorated.
First they fix any kerb and gutter issues, particularly from large trees, which also have damaged the existing road pavement where their roots extend under the pavement. Dane advised these trees needed to be removed.
Council spoke to the residents affected by the tree removal, and offered replacement trees. They all said no, they do not want a replacement tree. Dane said it is not Council policy to force trees on people.
Dane said for every tree they remove, Council will plant a replacement tree in their designated replanting areas. There are none of these on the island.
Most of our street scape trees are planted about 1m from the kerb and gutter. They were planted in the wrong position. Now 40 years old, they are fully grown and affecting the kerb and gutter, and potentially the road pavement, in addition to residents driveways. They are also on top of buried services, being vacuum sewer, NBN, electric cables and water supply. They are probably all in jeopardy.
---
Become a Member of your Association
HERE...
---
Welcome to St Huberts Island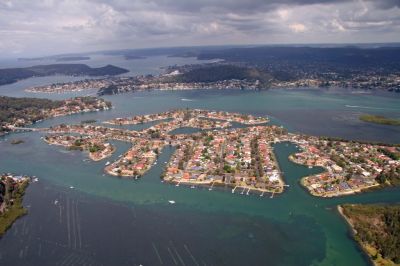 St Huberts Island is located within the Brisbane Water at its southern end. Its closest neighbour is Ettalong and is less than five kilometres from both Umina and Woy Woy, the latter being the nearest railway station on the main northern line.
Brisbane Water and its surrounding areas lie within the City of Gosford (in the newly created Central Coast Council area), which constitutes a major part of the Central Coast of New South Wales. The general area bounded by Ettalong, Umina and Woy Woy is known as the Woy Woy Peninsular.
At the extreme southern end of the peninsular is Patonga, which is within sight of Lion Island and Palm Beach.
While the Woy Woy Peninsular lies only a matter of some 40 kilometres by sea from the Sydney CBD, this distance is increased to nearly 100 kilometres for road and rail travellers due to the nature of the intervening terrain which encompasses Broken Bay and the Hawkesbury River with its many inlets and precipitous gorges.