A community website providing information to both Islanders and visitors
CANCELLED due to bad weather
SunsetSips 2022#3 @ SOLSTICE Park
5pm Saturday 1 October 2022

With the sun setting at 5.56 pm, get to Solstice at 5pm so you have time to:

Bring your

Chair
Hat
Sunnies
Beverages
Nibbles
Insect Repellent

★ Meet your new neighbours
★ Renew pre-COVID friendships
★ Enjoy FREE bubbles, Ladies bring your champagne glasses
★ Feast on a free sausage sizzle -with BBQed onions!
Proudly sponsored by Central Coast Agents, Steve and Trina
August 2022 Website Update:
The last 3 months have seen some ongoing correspondence with Council, which we are pleased to summarise here:
Proposed Deed of Licence - Amendments Required
: We sent our letter to Council on 16 May 22. (this letter was included in our June Newsletter) We have received several advices from Council that their legal review is still ongoing, before they formally reply.
On 1 August 22, Council advised that the consolidated
Central Coast Local Environmental Plan 2022
(CCLEP 2022) and
Central Coast Development Control Plan 2022
(CCDCP 2022) have come into effect. These can be found on the Council's website, all several hundred pages of them. Of particular interest is an extract of the DCP for Waterfront Structure, especially St Huberts Id Canals. Some new clauses are (refer page 8):
Generally, Council will not accept a development application for a pontoon unless made by a minimum of 2 adjoining landowners. Share arrangements for 1 pontoon for up to 4 adjoining premises may be considered.
Pontoons and walkways may not be permitted at premises of narrow frontage of less than 9 metres or near to canal corners or ends.

Pontoon walkways are to be located at a common property boundary.
Helmsman Blvd Roadworks
: After the great job Council did on the first section (bridge to Mainsail), Council are now planning the second section of roadworks being Helmsman Blvd from Mainsail to Beachfront Pde, and also all of Marina View Pde. The expected works date is November 2022. Several trees that have damaged the kerb and gutter and road pavement and will need to be removed, being 3 trees in Helmsman and 2 in Marina View. Where the property owners do not want the trees replaced, SHIRA has requested replacement trees be planted in the Island parks, especially Solstice Park. Council is amenable to this, and will later meet with us to discuss these replacement trees. Anyway, the replacement trees on our parks is a good trade off.
St Huberts Id Bridge Safety Upgrade
: Council have advised that the detailed design is still being finalised. So, the tendering, awarding of contract, and works to start on site are still a way off. Could be another summer of bridge jumpers?
---
Become a Member of your Association
HERE...
---
Welcome to St Huberts Island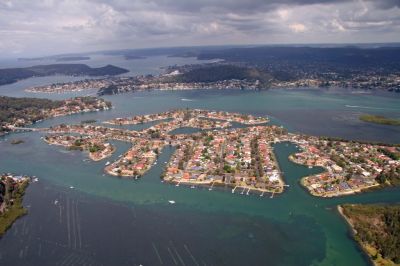 St Huberts Island is located within the Brisbane Water at its southern end. Its closest neighbour is Ettalong and is less than five kilometres from both Umina and Woy Woy, the latter being the nearest railway station on the main northern line.
Brisbane Water and its surrounding areas lie within the City of Gosford (in the newly created Central Coast Council area), which constitutes a major part of the Central Coast of New South Wales. The general area bounded by Ettalong, Umina and Woy Woy is known as the Woy Woy Peninsular.
At the extreme southern end of the peninsular is Patonga, which is within sight of Lion Island and Palm Beach.
While the Woy Woy Peninsular lies only a matter of some 40 kilometres by sea from the Sydney CBD, this distance is increased to nearly 100 kilometres for road and rail travellers due to the nature of the intervening terrain which encompasses Broken Bay and the Hawkesbury River with its many inlets and precipitous gorges.