A community website providing information to both Islanders and visitors
Sad to report that on Thursday evening 20 January 2022, two cars in Nautilus Crst were vandalised, with:
one car broken into and contents stole,
the other car stolen, and dumped nearby after contents stolen
Both cars were parked at the front of the house. All Island residents should ensure their cars are fully secured. Even though we live in paradise, we are still sometimes, at risk.
---
*** SUNSET SIPS ARE BACK ***

SunsetSips 2022#1 @ Solstice Park




5pm Saturday 29 January 2022





With the sun setting at 8.01pm, get to Solstice at 5pm so you have time to:

Bring your:

Chair

Hat

Sunnies

Beverages

Nibbles

Insect Repellent

Meet your new neighbours

Renew pre-COVID friendships

Enjoy FREE bubbles, Ladies bring your champagne glasses

Feast on a free sausage sizzle -with BBQed onions!
Annual General Meeting Thursday 10 March at 7.30pm, at the Cove Hall
We need Island residents to be interested in their Island, their houses, their biggest asset, and their futures.

SHIRA NEEDS YOU, and you need SHIRA. The SHIRA committee consists of:
President
Vice President
Secretary
Treasurer
Public Officer
Committee members (3 to 6) who work in the back room of SHIRA.

At the meeting, all positions will be declared vacant. Some office holders are now in their 80's and are looking for younger Island residents to step up.
SHIRA needs you to get interested in your Island and your houses and future.
WHAT ABOUT IT!! IT'S YOUR FUTURE
For the benefit of OUR ISLAND and YOU and your FAMILY, our new Committee voted in at this Thursday's AGM, need to continue with asking/ pestering Council.

WE NEED A STRONG COMMITTEE to continue in the footsteps of the outgoing Committee.
Annual General Meeting 2022 Nomination of Committee Members to the New Committee
-----------------------------------------------------------------------------------------------------------
Nominations for the election of: President, Vice President, Secretary, Treasurer, Committee members
Person Proposed: _______________________________ For Position: ________________________________
Nominated by (two Members of the Association):
_______________________________ _____________________________
(nominator name) (nominator signature)
_______________________________ ______________________________
(nominator name) (nominator signature)
Consent of the Candidate: ____________________________
(candidate signature)
---------------------------------------------------------------------------------------------------------------------------------------------------
Deliver or scan/ email to the Secretary before the day of the AGM at:
secretary@sthubertsisland.nsw.au OR Geoff at 25 Mercator Pde ______________________________________________________________________
Note: Nominators and Nominees MUST be paid-up Members of the Association
---
Become a Member of your Association
HERE...
---
Welcome to St Huberts Island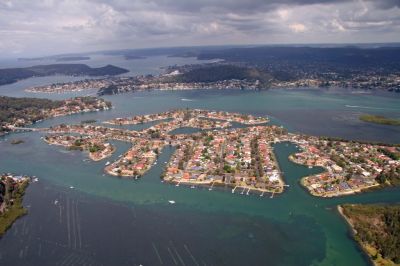 St Huberts Island is located within the Brisbane Water at its southern end. Its closest neighbour is Ettalong and is less than five kilometres from both Umina and Woy Woy, the latter being the nearest railway station on the main northern line.
Brisbane Water and its surrounding areas lie within the City of Gosford (in the newly created Central Coast Council area), which constitutes a major part of the Central Coast of New South Wales. The general area bounded by Ettalong, Umina and Woy Woy is known as the Woy Woy Peninsular.
At the extreme southern end of the peninsular is Patonga, which is within sight of Lion Island and Palm Beach.
While the Woy Woy Peninsular lies only a matter of some 40 kilometres by sea from the Sydney CBD, this distance is increased to nearly 100 kilometres for road and rail travellers due to the nature of the intervening terrain which encompasses Broken Bay and the Hawkesbury River with its many inlets and precipitous gorges.