A community website providing information to both Islanders and visitors
---
Dear Islander,
The St Huberts Island Residents Association (SHIRA) has been sent the attached letter from Central Coast Council, showing three design options for the proposed safety barriers to our bridge. Council has told SHIRA the Options are:
Option A: weldmesh 50x50mm grid of 4mm wire, with steel posts at 2.25m cts. All painted black.
Option B: stainless steel tension mesh, 40x40mm grid of 2mm wire with steel posts at 2.25m cts
Option C: stainless steel tension mesh, 40x40mm grid of 2mm wire with steel posts at about 4.2m cts in a triangular (sail) shape.
The safety barriers will be installed. Council is seeking feedback from the community and other key stakeholders, that is you. Feedback no later than COB on Friday 5 November 2021
SHIRA is not nominating a choice of the 3 design Options. That is up to Islanders to choose and so reply directly to Council, as per their attached letter. Council will make a final decision based on the feedback.
2021 AGM is
COVID Cancelled - now March 2022
More information here
---
Become a Member of your Association
HERE...
---
Welcome to St Huberts Island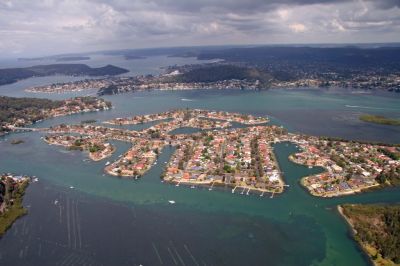 St Huberts Island is located within the Brisbane Water at its southern end. Its closest neighbour is Ettalong and is less than five kilometres from both Umina and Woy Woy, the latter being the nearest railway station on the main northern line.
Brisbane Water and its surrounding areas lie within the City of Gosford (in the newly created Central Coast Council area), which constitutes a major part of the Central Coast of New South Wales. The general area bounded by Ettalong, Umina and Woy Woy is known as the Woy Woy Peninsular.
At the extreme southern end of the peninsular is Patonga, which is within sight of Lion Island and Palm Beach.
While the Woy Woy Peninsular lies only a matter of some 40 kilometres by sea from the Sydney CBD, this distance is increased to nearly 100 kilometres for road and rail travellers due to the nature of the intervening terrain which encompasses Broken Bay and the Hawkesbury River with its many inlets and precipitous gorges.