Santa on the Water - 2015
Wednesday 23 December - leaving Marina Cove at about 5pm.
Rod and Virginia Wenzel will continue their traditional and popular "Santa On The Water" this Christmas.
On Wednesday 23 December at about 5pm they will motor around St Huberts Island with Santa and the Brisbane Water Brass Band playing and caroling on board his vessel "Doctors Orders" to celebrate Christmas.
Doctors Orders will travel clockwise from Marina Cove and enter all canals, finishing at Sandy Cove/Sandy Inlet then returning the same way. You and your vessel are encouraged to join the fleet when you find it or it passes you.
On their return, Rod and Virginia will personally thank band members and their spouses.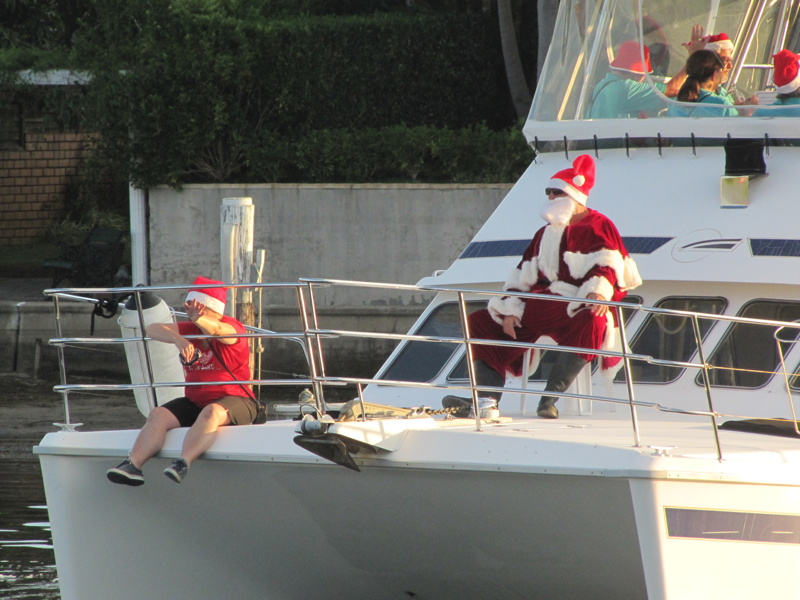 Santa (with Elf Helper) on Doctors Orders - 2014
Santa (with Elf Helper) on Doctors Orders - 2014
---
Report
Once again the generosity of Rod and Virginia Wenzel resulted in the Brisbane Water Brass Band motoring around the canals of St Huberts playing Christmas carols. With their boat - "Doctor's Orders" - leading the way, this year we had a significant flotilla following in-line.
Rod and Virginia then took the band and their families back to their house and personally thanked them with some Christmas cheer and a "feed".
Surprisingly, an extra joined the flotilla in one of the canals. It could have been Mrs Clause chasing her man (?). Her craft was ably crewed by one of Santa's elf helpers - Molly.
The following day a surprise visit was made by two groups of paddlers (unknown to this reporter) dressed for Christmas, "HoHoing" and carolling.
The length of their canoes made for some interesting U-turns at the end of this canal (a clunk of canoe against pontoon was heard), and for the thinner canals - if entered - a U-turn may have been almost impossible.
Some photos as a slide show below...