Santa on the Water
Friday 23 December - leaving Marina Cove about 5pm.
Rod and Virginia Wenzel will do "Santa On The Water" again this Christmas.
On Friday 23 December at about 5pm they will motor around St Huberts Island with Santa and the Brisbane Water Brass Band playing and caroling on board his vessel "Doctors Orders" to celebrate Christmas. Doctors Orders will travel clockwise from Marina Cove and enter all canals, finishing at Sandy Cove/Sandy Inlet then returning the same way.
You and your vessel are encouraged to join the fleet when you find it or it passes you.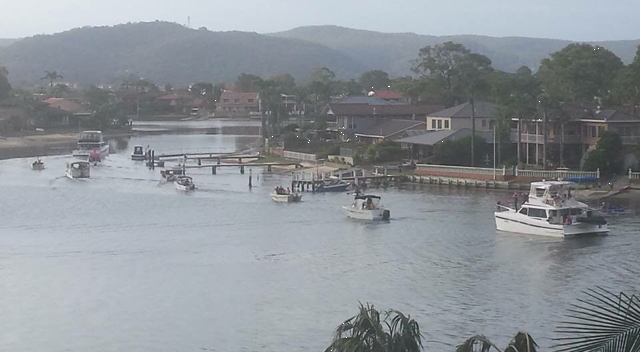 Some of last year's 2015 Flotilla
---
REPORT
A sunnier day than last year saw Rod and Virginia Wenzel's boat, Doctors Orders again hosting Santa on the Water. The boat was loaded with Santa, maybe some reindeer below decks, some hangers-on (carolers?) and the Brisbane Water Brass Band, and set off clockwise around the Island. They did leave dock a little later than planned (an errant musician I heard), but still cruised into all seven of the Island's canals with Santa waving and wishing everyone a "Merry Christmas…" while the brass band played a continual medley of Christmas carols.
The flotilla supporting Santa formed up in or near Marina Cove then followed the festivities.
One of the flotilla crew was better dressed(?) than the rest however…
Four boys shared a few drinks while getting ready for the flotilla with Doctors Orders and were looking positively resplendent and fetching in their St Huberts Island BBQ Aprons and Caps [PLUG - $18 and $12 from the Association]. They are so sought after, a "mainlander" from Point Clare even bought a set.
Paul from Mainsail, Darren and Steve from Cuttlefish and Alan from Point Clare all wore their aprons proudly and by the end of the night the pockets of the aprons were jingling with bottle tops!!
Click here to see the Gallery of photos from the day.