ANNUAL St Huberts Island Paddle Regatta
Sunday 4th December, 9 am, Long Arm Reserve.
It's Christmas… wear your Xmas hat! Kids also welcome.
Starting at 9 am at Long Arm Reserve we'll paddle clockwise by kayak, canoe, paddle board, stand-up board or raft into each of our 6 canals where we'll stop at a welcoming host who has volunteered to register your arrival, flying identifying bunting and providing refreshments and a short rest. You then paddle into each of the canals for a similar welcome, finishing sometime after 11am back at Long Arm Reserve for a hearty welcome by your family, friends and a picnic with bubbly.
This is not a race, just an enjoyable morning of paddling with new and old friends, experienced or inexperienced, and the stopovers are meant to revitalise the less fit amongst us. It should all be good fun!
All ages can take part.
Those with a spare craft please let me know and I'll put you in touch with someone who'd like to join us but doesn't have one - they should make contact with me as well.
This adventure is dependent on the weather and you'll be contacted by email if we have to call it off.
I'd also like to hear from anyone in the canals who would like to be a welcoming host.
Would you please register your interest with Helene Cornwell at 4342 1251 or email helene.cornwell@optusnet.com.au with your contact details and whether you are paddling singly or with a friend.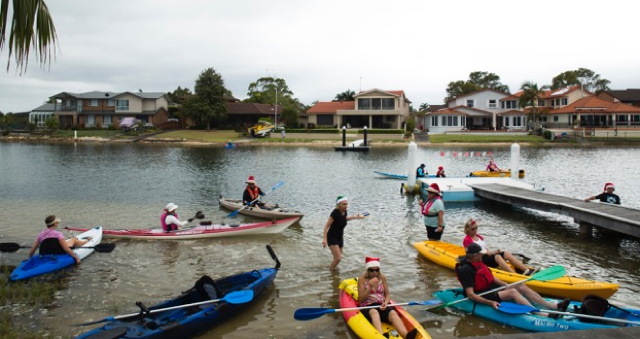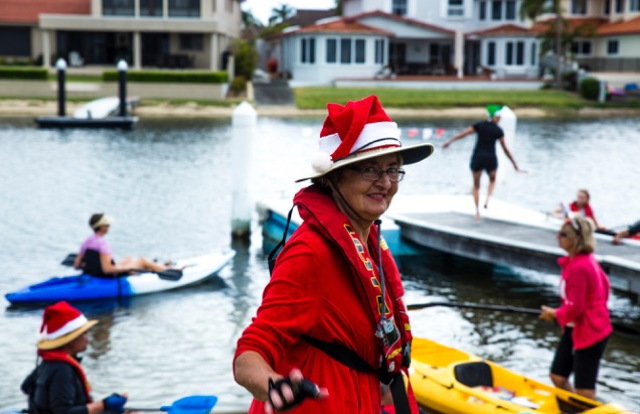 (Photos - last year's kayak around the Island)
---
REPORT
Sunday 4 December saw the first "official" St Huberts Island Christmas Paddle Regatta, with most of the paddlers getting into the swing of Christmas by wearing Santa hats.
About 25 people partook of the regatta. The weather was sunny, no wind, and an excellent day for a relaxing paddle around the Island and its the canals. Good fun was had by all, and the bubbly and nibbles at the finish in the Long Arm park were very well received by paddlers and well wishers alike!
Where possible rest and replenishment stops were made in each canal. One such stop was Ross and Margaret Henderson's Shelter Cove "watermelon stop".
Photos from the day follow...