The St Huberts Day BBQ
(and

Family

Extravaganza)
Sunday 6 November 2016
This year the annual St Huberts Day barbecue has been arranged for Sunday November 6 2016.
This is a great day to meet up with fellow Island residents in a very casual and social atmosphere. The association plans this event on the nearest Sunday each year to St Huberts Day.
For interest, St Hubert is the French Patron Saint of Hunters and St Huberts Day is celebrated in France in November each year.
After the "massive" success of last year's EXTRAVAGANZA, the Association will be repeating the format.
To go with the requisite free sausage sizzle with onions, the grown-ups will be entertained by Island residents KAVAMALT - the singing and playing duo from last year. While this is happening, the kids will again be occupied by their own entertainment - magic shows, face painting, balloons and more.
AND... the most popular part of the entire day will also return... Yes... the portaloo will make an appearance!
This leaflet has just arrived in your letterbox...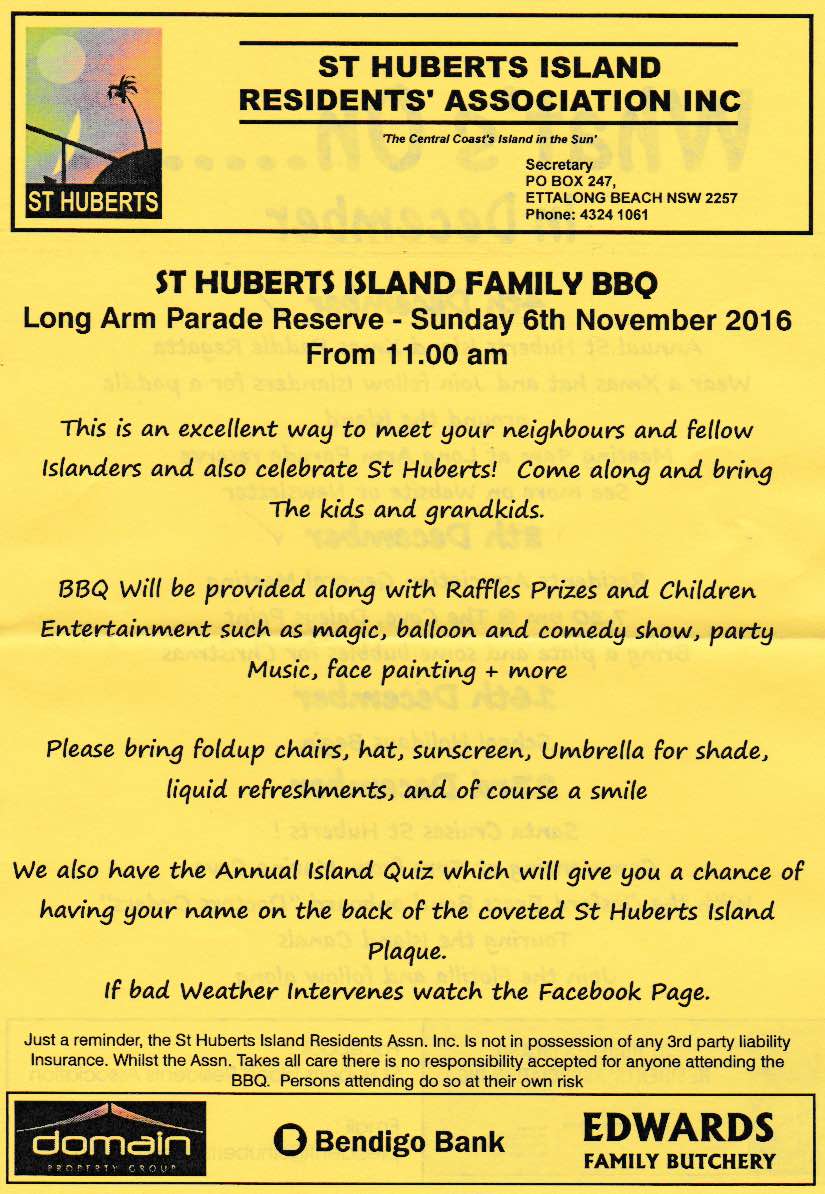 ---
Report
The second Family BBQ Extravaganza was successfully held on Sunday 6 November at Long Arm Reserve. A family extravaganza... because we again had a loo (just, after being let down at the last minute), face-painting and a magic show for the kids. Unfortunately we couldn't get our entertainers from last year but next year we will rectify this.
A very rough head-count had over 100 people and kidlets attending, and this year there were adequate food supplies, with fizzy drinks for sale for those drinkers.
The day was warm, sunny, and we again scored the low tide so, despite the water temperature, intrepid wadders and swimmers made use of the sand and shallow water.
The only problem was the wind... swinging around between NW to SW, strongish and with a bit of a bite to it. The various gazebos needed to be anchored very well!
Many raffles prizes were drawn and won, while the VERY COVETED St Huberts Island Quiz Plaque was won by Marina View resident Mick Beaini. "Lucky" Mick gets to create the 10 quiz questions for next year's BBQ.