Inaugural CHRISTMAS IN JULY
Notification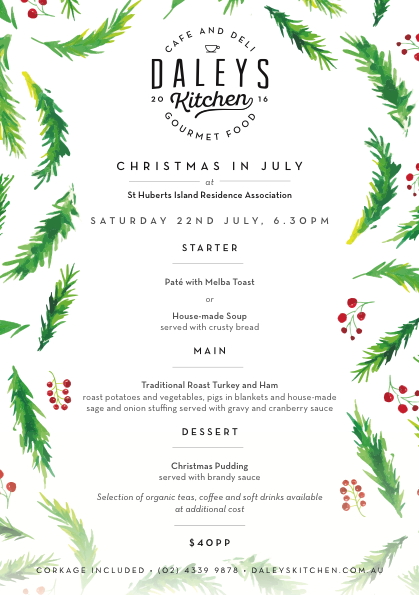 ---
Report and Photo Gallery
Well... the this first Island Christmas in July was also a WOW event.
On the night of Saturday 22 July, Daleys Kitchen was chock-a-block, with mine-host Sue needing to bring extra chairs from home. A sell-out crowd of over 60 (64 at one stage before some cancellations and late replacements) thoroughly enjoyed themselves with much Christmas food munched, supplied and BYO Christmas cheer consumed, and all with a continual din of conversation and raucous laughter.
Santa turned up in the guise of President Rod Blake with two assisting elves - all not dressed the part - and distributed bottles of wine for each table, and drew many lucky door prizes (with only a few lucky people!).
The food and choices were delightful and varied, serving sizes more than adequate (for this big-eater anyway), serving elves were eager and efficient in all aspects, and host Sue
was welcoming, calm and organised, despite a major kitchen melt-down in the middle of serving the main course - but most/all of us didn't notice a thing.
To help the Association coffers - and consequently bigger and better activities - the first bundle of the new "Sunset from Solstice Place" cards were sold on the night, with orders for more placed by others.
A very big thanks from the Association to Daleys Kitchen, Sue, her staff and Committee member Helene Cornwell for putting together a most successful and enjoyable first.