Island Dine-Out 2017#1
February 2017
NOTE: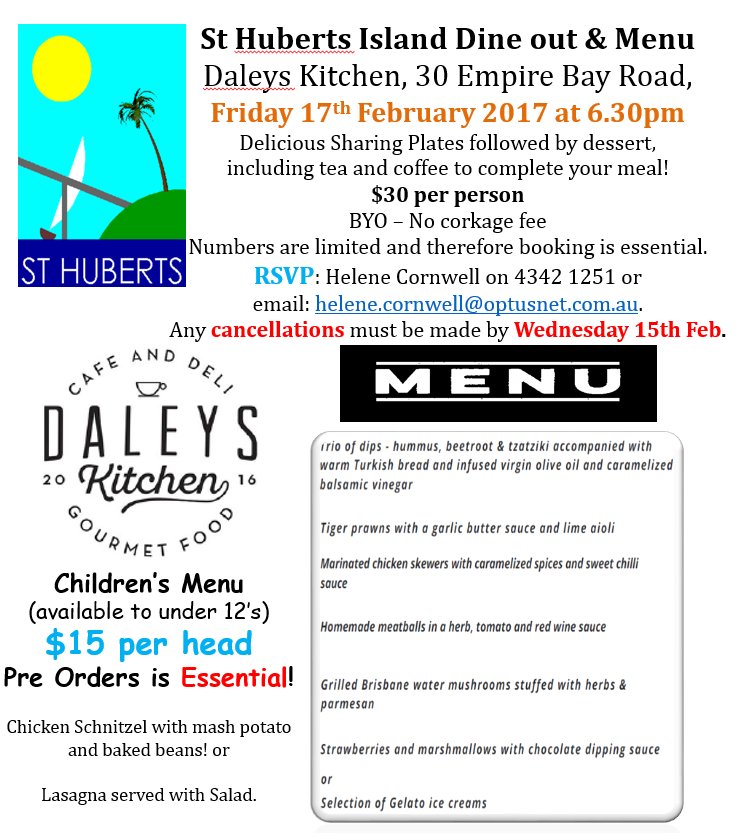 ---
REPORT
After a severe electrical storm and a blackout before the start time, the first Dine-Out for 2017 kicked-off successfully on Friday evening 17 February.
More than 50 residents and friends turned up to another excellent spread from our host at Daleys Kitchen - resident Sue Parson. Sue loves trying out her new menu items on the Association, and we benefit every time. Our tastebuds were titillated by a trio of dips, marinated and spiced chicken skewers, homemade meat balls in a delightful rich sauce, and stuffed and grilled Brisbane Water mushrooms followed by a delectable choice of deserts. This correspondent had smooth, creamy cheesecake and sampled a rum&raisin gelato - both mouthwatering. The gastronomical component of the evening was finished off with a delightful large flat white coffee - like most Australians, we consider ourselves connoisseurs of the espresso coffee, and Daleys Kitchen was one of the best I've had!
The two groups who chose to sit out on the west facing terrace were entertained by Mother Nature - she put on a multi-sensory display of thunder, lightening and the occasional passing torrential downpour.
All-in-all, an excellent evening for those who attended, and with possible rotating seating next Dine-Out.
A Gallery of photos from the night is here...