A NEW EVENT for Island Residents...
"Round The Canals" boat tour
Island residents Rod and Virginia Wenzel have very generously made available for ALL Island residents, the chance to see our Island from the canals.
We've all seen the Island from the road, but few have done this from the water side.
The first tour has recently occurred - 14 ladies attended and all enjoyed the 2 hour cruise, and from the noise and empty bottles that were heard and seen, a good time was had by all.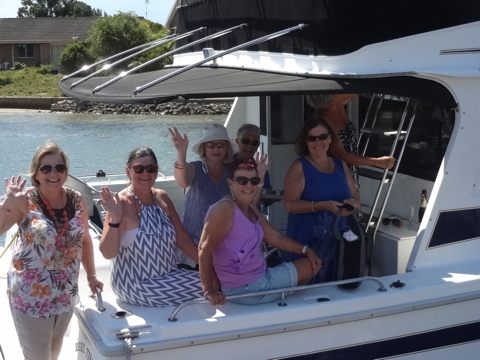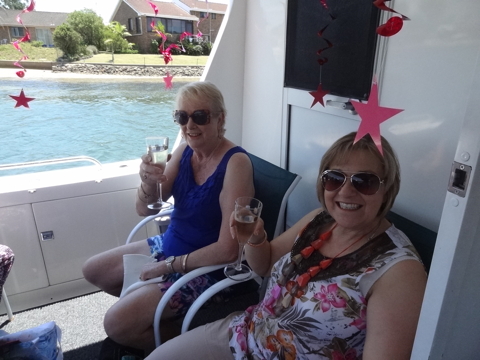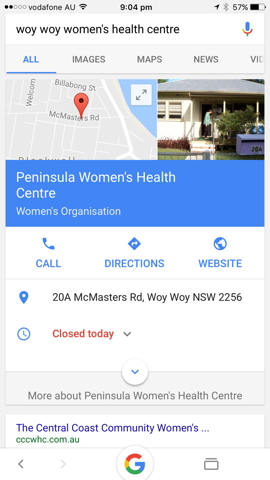 The tour raised $140.00, half of which has been donated to the Peninsula Women's Health Centre and half to the Island Association.
DETAILS:
The tour must be booked through the Association President - Rod Blake at president@sthubertsisland.nsw.au.
It is for Island residents only.
Tours begin in earnest from mid-January onwards.
It will only be available on Tuesdays and Thursdays, and NO weekends.
The cruise is 2 hours in length, and visits all six canals.
A minimum of 10 people on the tour.
Cost is $10 per head with half to the Peninsula Women's Health Centre and half to the St Huberts Island Residents Association.
Bring your own drinks and nibbles.
The Association's Committee thanks Rod for his generosity which will enable us to provide more social activities for the Island's residents.
---
Report and photos from one cruise...
As a resident of Marina Cove, this Editor has seen many a "Round the Canals" group pass by as Rod and Virginia Wenzel's catamaran - Doctors Orders - has "chucked-a-U-turn" in front of me as Captain Rod manoeuvres back to the cruise terminal.
The cruises continue to be popular, with the Peninsula Womens Health Centre and Island Association benefiting from Rod and Virginia's donations.
About a month ago a friend of Rod and Virginia's arrived just before a planned cruise. This friend does Rod Stewart tribute entertainment, so he was inroduced into the departing cruise.
The following story from the cruise group shows how well he was received...
----------------
A group of "girls" got together for a 1983-1985 Teachers College reunion. The celebrations commenced at Sue's home in Mainsail Ave, where ten friends assembled beforehand to view a DVD, old photos, a Powerpoint presentation and wallow (?) in 80's music.
Champagne flowed and there were laughs and amazement at the changes from the college days. It didn't seem so long ago, but the changes were amazing! There were no mobile phones or computers; assignments were still hand written and submitted by posting the completed assignments into large assignment post boxes at the college. The fashions, the big hair styles and the old cars in the college carpark were great to see. There were photos of the group performing musicals at schools, teaching with the old chalk blackboards, field trips to Byron Bay etc, college muck up day and of course graduation photos.
Eight of the college ladies had travelled from places ranging from Queensland to Wollongong to attend, and two island neighbours, Lindy and Jeanette from Cuttlefish Parade also happily joined the celebrations.
At 11 am, the party moved to Rod and Virginia's home, and the girls boarded Doctors Orders. Rod had a special surprise, he had organised a real live Rod Stewart performance on board Doctors Orders.
WOW! The celebrations shifted a gear as Rod Stewart started 'rockin' the St Hubert Island canals, with the girls singing in unison to "Do Ya Think I'm Sexy', "Hot Legs", "Sailing", and the party sailed on!!!...
A big thank you to Rod and Virginia for making a very special reunion and great memories to be cherished by all!
And a big thank you to Rod Stewart as well!
Some photos follow...