Sunset Sips @ Beachfront Reserve
2017#4 Saturday 23 September
Notification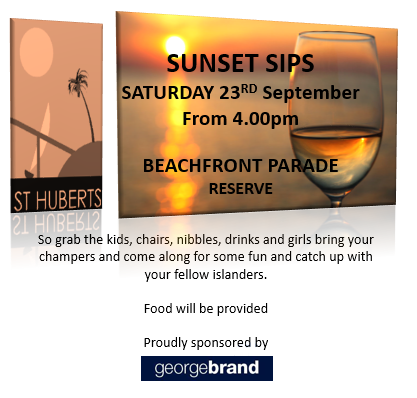 ---
Report and Photo Gallery
This Sunset Sips continued to build on the success of our first two Sunset Sips at "Poo Park" and then Solstice Park.
This 'Sips was at the large Beachfront Reserve, the third of our five open reserve areas on the Island - with Attunga Park and Long Arm Reserve still to host a 'Sips. Us/We Islanders can be a "funny bunch" at times, with a numbeer of attendees heard commenting "... we didn't know this park was here...". It's only a small Island but we do tend to stay in our own little area, and the 'Sips are intentionally moved around the Island to help our "isolationism".
A quick head-count around sunset arrived at about 75 Islanders enjoying the beautiful, balmy, cloud-free afternoon then evening. The forecast strong nor-easter blew a few strong gusts as the Committee was setting up, then it disappeared.
The 'Sips kicked off at 4pm with the sausages, steaks and onions almost ready for the prompt attendees. Before we got into the swing-of-things we had a sober moment when president Rod Blake mounted a chair and announced the very sudden passing of previous and long-serving Association President - Ron Spratt.
Sponsors, George Brand Real Estate arrive earlier with their shade marquee and very welcome ample bottles of champagne, and the evening was on its noisy and enjoyable way.
I suspect the last revellers to leave was about the midnight mark - another very successful Sunset Sips, and "new" residents met.