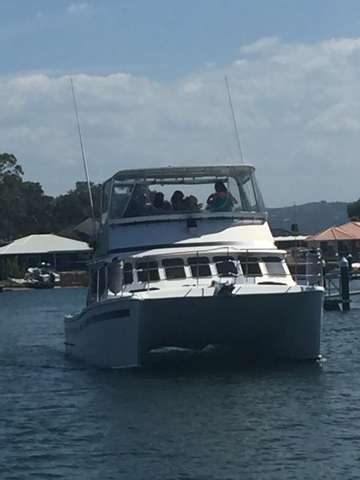 The NEW STYLE Island Cruises
Big Rod and Doctors Orders are once again offering their services to Island residents in 2017.
There are now 2 options available:
Option 1
A 4 hour cruise which includes visits into all the Island canals and around various parts of surrounding Brisbane Waters.
Rod now has a Party Box onboard with heaps of music and there is plenty of time to enjoy a few nibbles and drinks or lunch (you to supply).
Cruises normally leave around 11 am and you need approximately 10 people to organise a trip.
If you have a special birthday or event to organise, this is a fabulous opportunity to arrange a cruise. If you have visitors or friends coming for a visit, book now and see the Island sites or gather a bunch of neighbours together for a luncheon cruise.
Cost is $25.00 per head, with proceeds being shared with Peninsular Women's Centre and your Residents Association.
Option 2
All of the above plus entertainment supplied by yet another Rod, "Rod Stewart".
• Want a fantastic day out with the girls?
• Have you got a group of serious party goers?
Then this is the cruise for you!
4 hours of non-stop entertainment by a very professional artist.
Cost is $55.00 per head.
When you have organised your function, just contact Big Rod Wenzel on 0418 294 956.