Australia Day 2018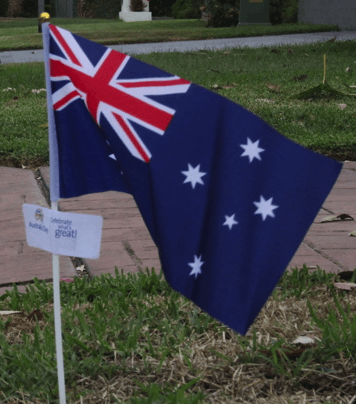 on
St Huberts Island
The day dawned on Friday 26 January 2018, and many Islanders immediately noticed that little elves (?) had been very busy overnight/early morning.
Many of the major roads on the Island had been "en-flagged" in front of each property with small Australian flags.
On closer inspection we discovered a need to thank Trina and Steve Gribble, principals of our local Domain Real Estate office.
The flags were placed along Helmsman from the bridge to Marina View, then circling around Marina View into Nautilus then back to Helmsman. They started again at Mainsail, continued in to Solstice with a branch along the way to Heron.
It really was a surprising and impressionable sight to see our national flag on display in such a manner.
This crazed Webmaster drove all around the Island and took more than 40 photos, many from ground level, to document this day on the Island. (Some of you may well have seen this guy sitting or laying on the ground with camera in hand!!).
Only a selection of these photos appear here - and some Islanders might want to "spot the street" with some of them.