SunsetSips 2021#1
Solstice Park
Saturday January 30 - 5pm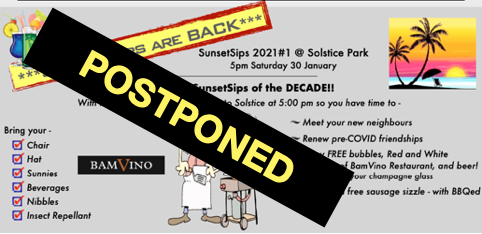 SunsetSips2021#1 has been POSTPONED, hopefully to a later date ... and soon.
The SHIRA Committee reluctantly agreed at its recent meeting to postpone the above planned Sunset Sips, due to the current COVID restriction of a maximum of 30 people for outside gatherings.
We delayed the Committee meeting and final decision as long as feasible, and were aware that the NSW Government was on the verge of freeing up outdoor events to a maximum of 50 people.
However, we were expecting more than 50 people at this SunsetSips - the first one since the February 25 SunsetSips at Attunga in 2020 - and the last thing we wanted to do was the difficult role of turning away excess and expectant revellers.