The St Huberts Island bridge
Safety Upgrades
Important to us in so many ways...
Still being added to...
(Sorted Reverse Chronology - start at the bottom to get the full picture, OR the top for the latest)
---
INTRODUCTION
When SHIRA was advised by Council of the proposed galvanised weld-mesh safety barrier, we immediately realised what an over-powering addition this would be to our Bridge. We advised all the Island residents by letterbox drop showing the proposed barriers. There was an overwhelming resident reaction with at least 160 responses (seen by SHIRA) sent to Council. The vast majority of replies from the respondents request the repainting and restoration of the existing bridge balustrade, and were appalled at the proposed weld-mesh barriers.
The Association fully supports this.
We did not ask for a 2.6 metre high weld-mesh barrier down each side of the Bridge - Council decided this without consulting the Island community.
However, there is Federal funding for the safety barricade, but unlikely this could be used for just repainting the current railing. This is for Council to resolve.
We further suggest additional safety and a deterrent to stop Bridge jumpers be provided by CCTV (monitored by Council rangers and Woy Woy police), together with new signage stating the fine for jumping from the Bridge.
The SHIRA Committee acknowledges there is a small proportion of the Island community who would welcome this safety barrier preventing jumping from the bridge.
Following is a timeline of what is happening...
---
27 May 27 2020 - Meeting with Lucy Wicks
At the behest of Federal Member Lucy Wicks, on Wednesday 27th May, SHIRA President Ken Stewart and Vice President Ron Stapleton participated with Lucy in a three-way telephone conference.
President Ken was most impressed by how well briefed Lucy was, and her knowledge of the problem which our Residents Association was confronting in relation to the erection of barriers on the Bridge.
She volunteered that having seen the material provided by Council as an indication of what a wire mesh barrier would look like, she regarded it as not appropriate and advised that she had made her views known to Council Officers. She also indicated she would be prepared to raise the matter on our behalf if so requested.
It was reported as a forthright, frank and uncomplicated discussion.
---
13 May 2020 to End-May
Council has contacted the SHIRA President suggesting a meeting between the Engineer and SHIRA.
To date this has not happened as SHIRA wants to consult more with the community.
Lucy Wicks is also contacting SHIRA to hear and discuss our community's concerns with the proposed visual amenity of the current bridge design.
---
5 May 2020 - Letter to Council from SHIRA Committee
Almost 160 emailed comments were sent to the SHIRA Secretary then forwarded to Council.
Another unknow number would also have been emailed directly to Council.
Unfortunately there was insufficient time for SHIRA to canvass the entire Island community in order to create an Island-wide comment on this Bridge project to Council.
Rather, the SHIRA Committee considered the 157 emails seen then sent this letter to Council: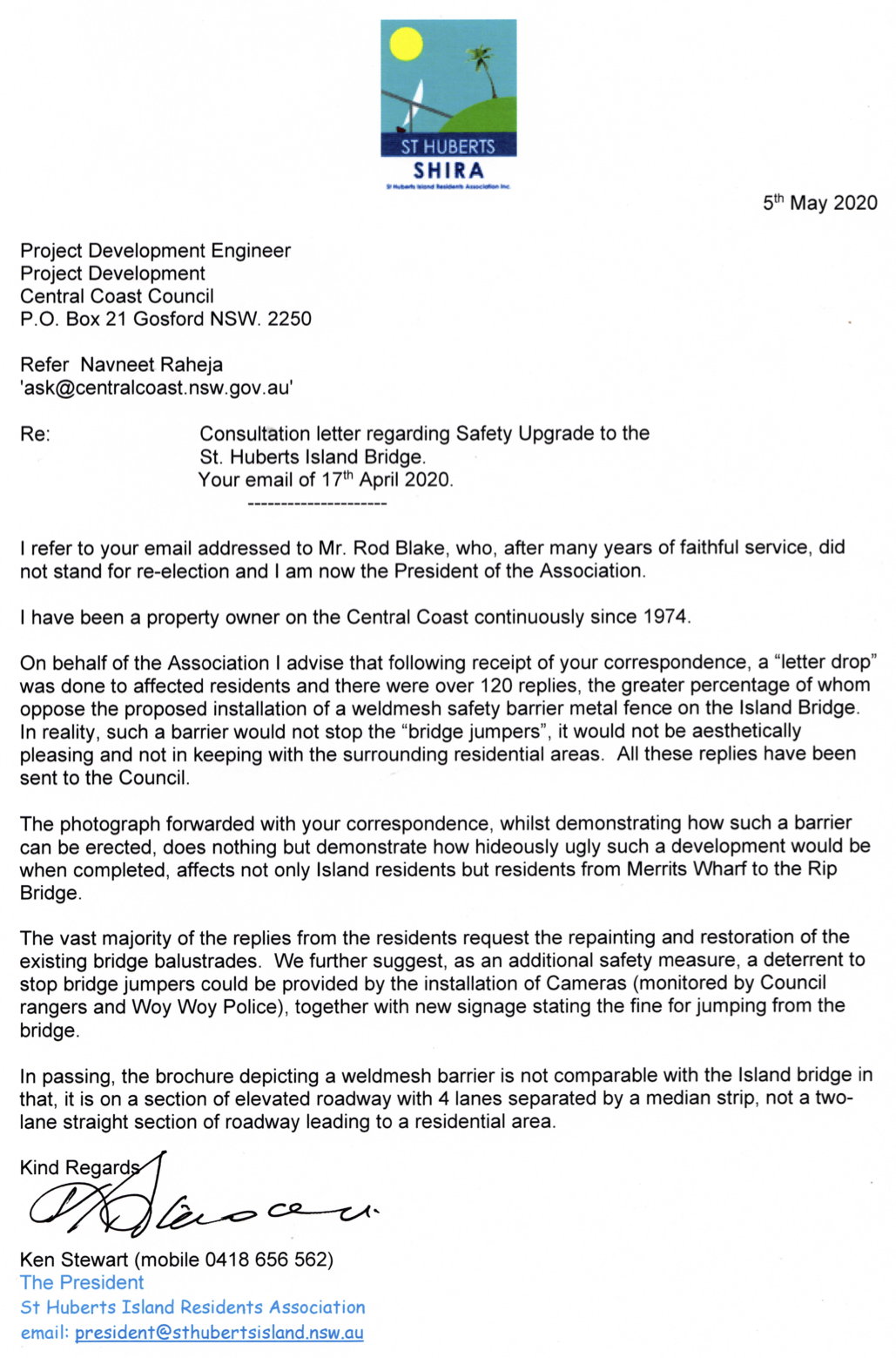 ---
23 April 2020 - Letterbox Flyer delivered
Now the action begins!
From 17 April to 8 May - 21 days - SHIRA has the task of informing ALL St Huberts residents and property owners, as well as the Daleys Point residents who would be impacted by the Council's suggested designs for bridge safety.
... Then encouraging as many people as possible to provide written comments to Council by the 8 May cutoff - considered to be not enough time to achieve this.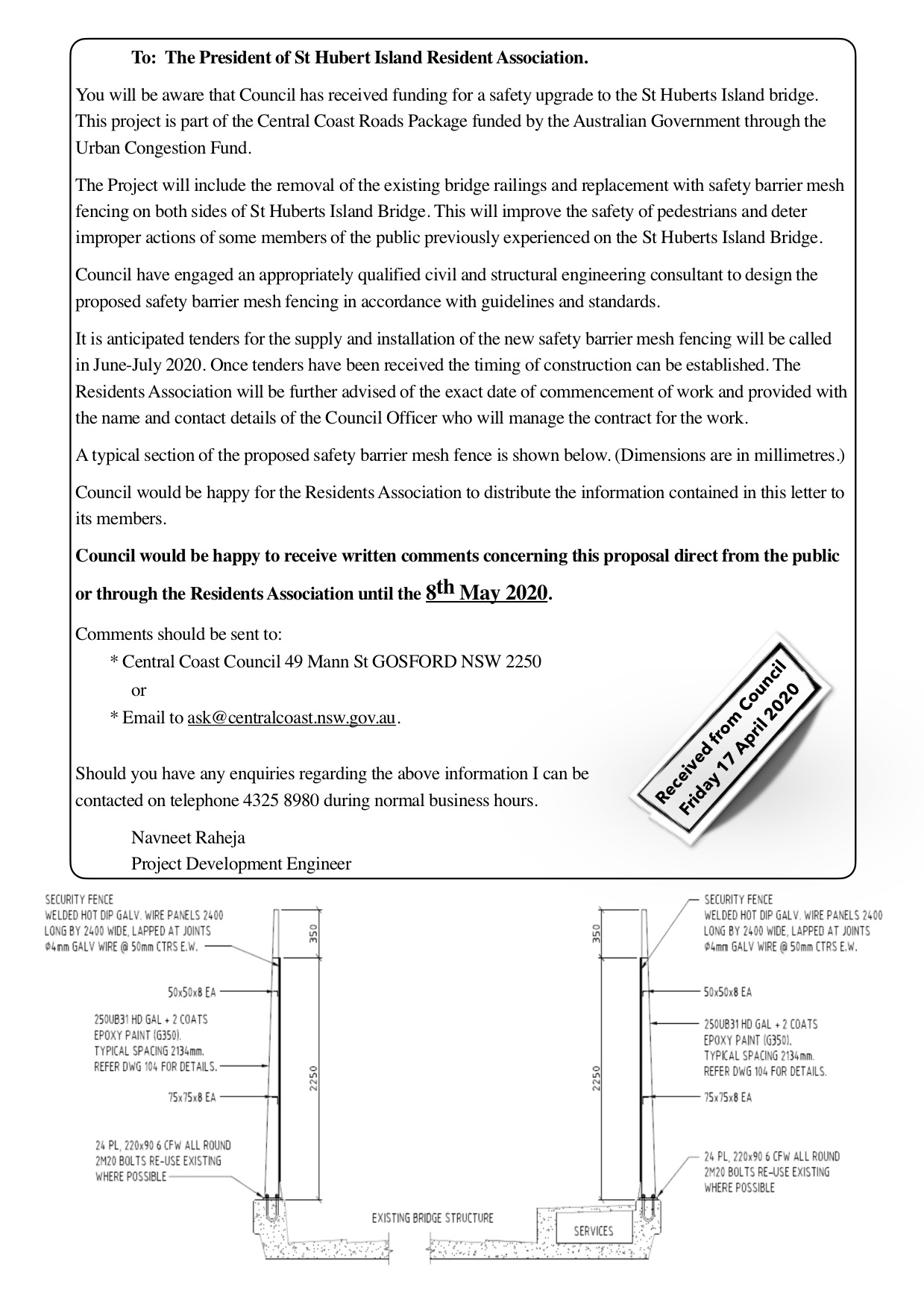 ---
17 April 2020 - Council Consultation Letter emailed to SHIRA
The mentioned Consultation process begins with the arrival of an email from the Council: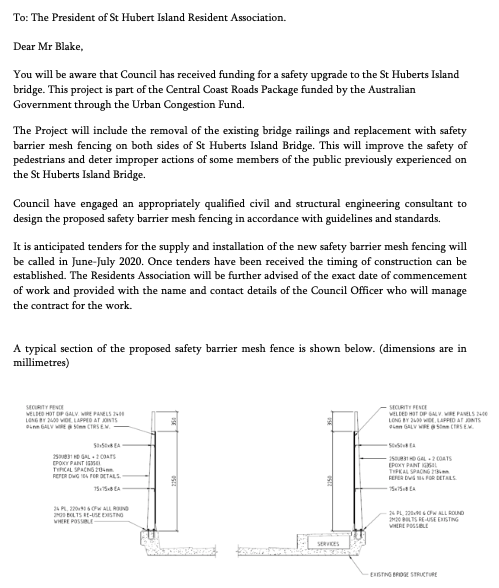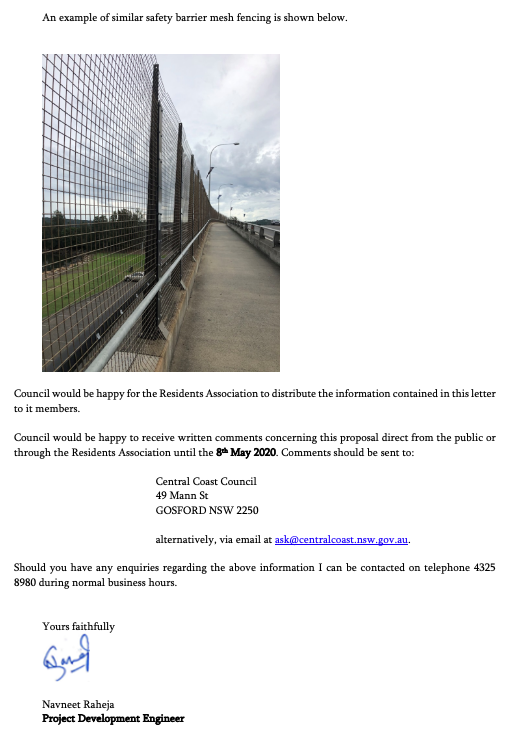 ---
February 2020 - Contact with Lucy Wicks
The SHIRA President contacted Federal Member Lucy Wicks to find out an update on the funded Bridge project and a projected timeline.
A letter to Lucy from CCC indicted the project was scheduled for the 2020/21 financial year, and that "Consultation with the community will occur in the finalisation of design drawings and prior to commencement of construction works for this safety project."
---
Mid-2019 - Lucy Wicks contacts Council
One very concerned resident contacted Lucy Wicks regarding the scheduling of works for the bridge amongst other Island issues.
Lucy contacted CCC and received a letter indicating Council was awaiting receipt of funding documentation in relation to the recent Federal Government's commitment to fund the upgrade of the railing and security fencing for the Bridge.
A project design had been completed with construction anticipated in April 2020.
---
Mid-2018 - some resident's concerns relayed to Lucy Wicks
After everything going quiet, several residents contacted our Federal Member - Lucy Wicks - with their concerns over bridge-jumpers (at night-time what's more!). Lucy contacted SHIRA to see what she could do to help and contacted the acting CEO of CCC Brian Glendenning for an update on the issue.
---
27 April 2017 - Letter from Council
The next contact with Council was the following letter: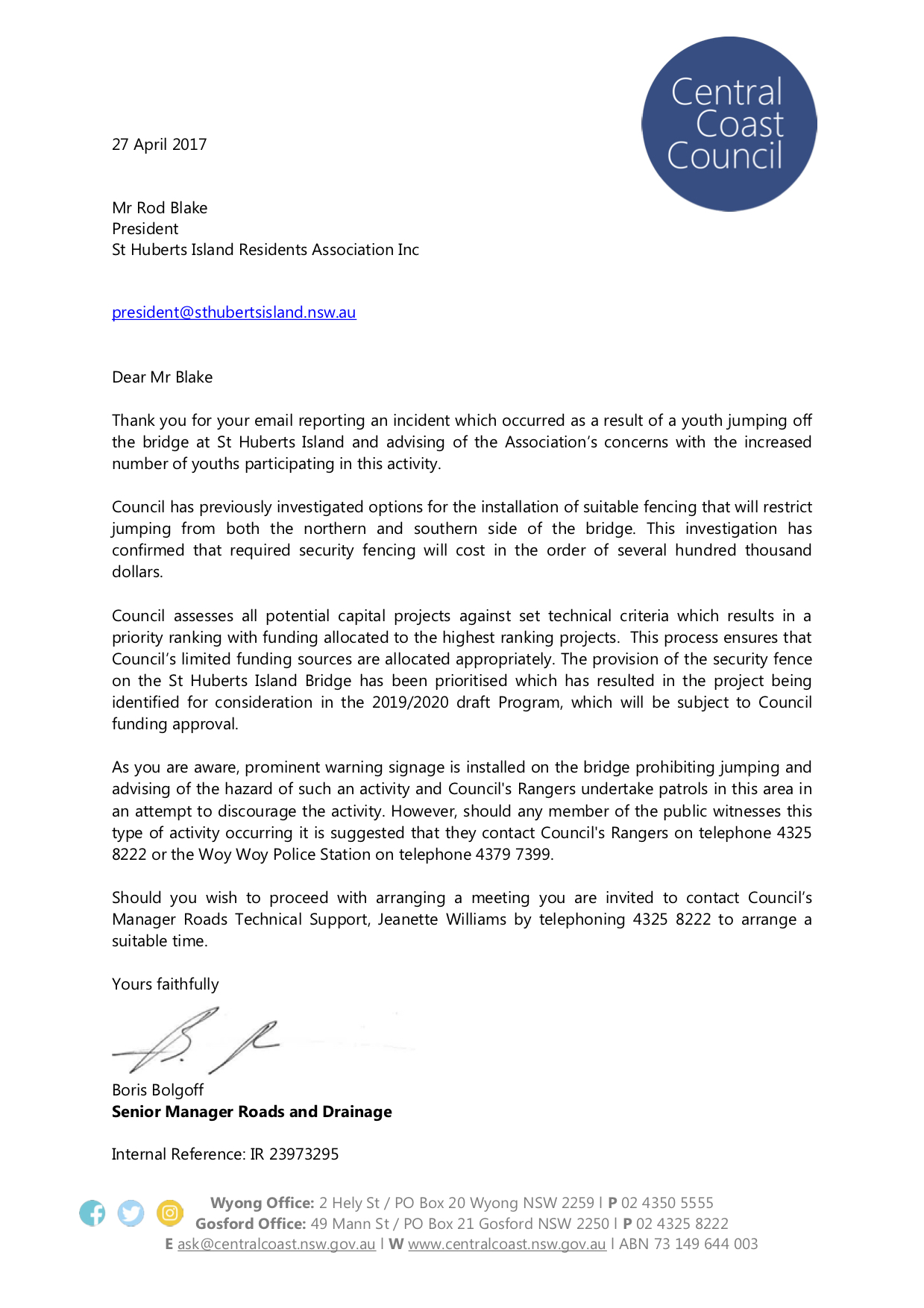 To the knowledge of SHIRA, this is the first mention of "security fencing" with Council indicating it would cost "several hundred thousand dollars" and in a future draft program will be subject to Council approval.
Council asks if SHIRA wants a meeting, a request already made by SHIRA almost two months before.
---
The 8 February 2017 letter clearly expressing a concern with bridge jumping while not raising the need for a jumping barrier, asks for a meeting with Council. All indications are that there was no meeting.
---
8 February 2017 - Letter to Council
Bridge-jumping came to a head with SHIRA on 5 February when the son of a previous Island resident sustained a very nasty injury after jumping.
The SHIRA President at the time sent the following letter to Council: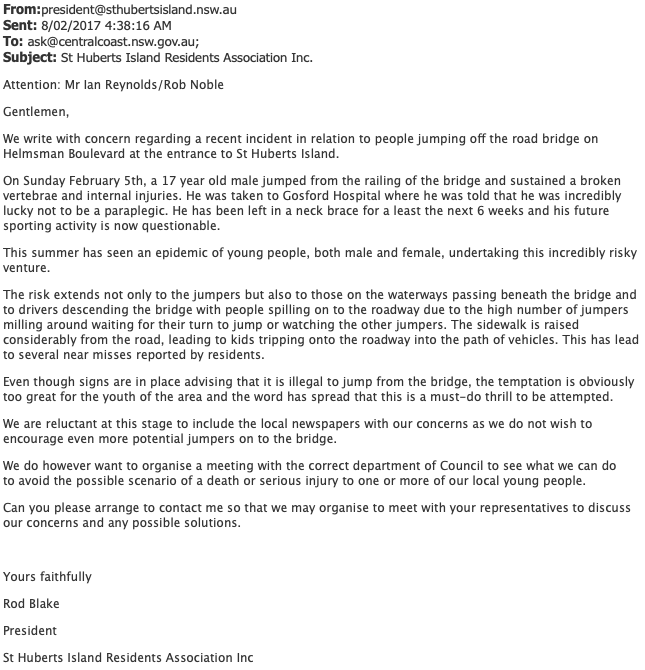 ---
In the Past...
For so many years, Committee Meeting minutes are littered with mentions of the repainting of the bridge. Constantly Council has "refused" to do it claiming lack of money, but the Committee continued to call for it anyway! (What is Einstein's definition of insanity!)
The issue of bridge jumpers was only briefly mentioned mainly due to a lack of comment from the residents of the Island. There were the occasional comments such as "... fun...", "... dangerous...", ... something needs to be done...", "... residents concerned..." etc.
During this time Council erected various signs such as:

Police and Council Rangers would be called at times by concerned residents.