Island Dine-Out 2017#2
May 2017
Notification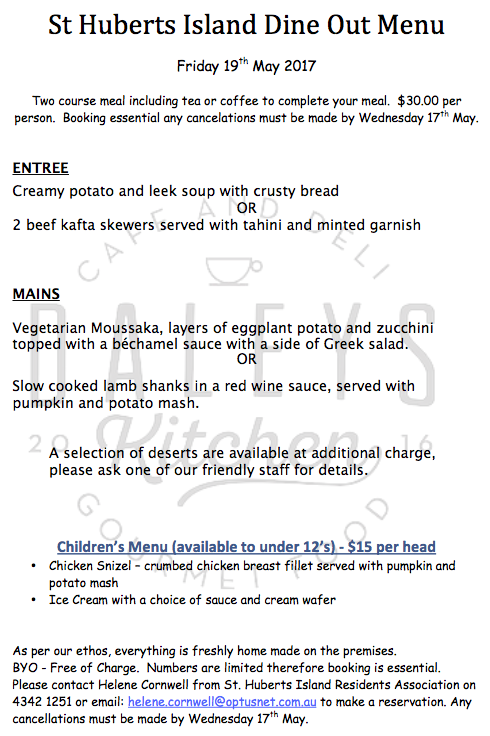 ---
Report
A Gallery of photos from the night is here...
We had a very good turnout despite the rain - 42 happy diners turned up and we all enjoyed a delicious meal carefully prepared for us by owner/manager of Daley's Kitchen, Sue Parsons, a St Huberts Island resident and her team.
Everyone mixed well and lots of new friendships were made.
We announced the inaugural "Christmas in July" (possibly Saturday 22 July) at Daleys Kitchen, and this was enthusiastically received.
A new St Huberts Island unique item was also displayed for the first time. The Association has developed a blank post card with a stunning picture of the sunset at our March Sunset Sips at Solstice Park - these promise to be very popular.
Amongst the many interesting Islanders this correspondent spoke to were Bill Balneaves, John Maxwell and John Irvine, all from Helmsman.
They may well be called upon as guest speakers at future General Meetings.
Bill's interesting life included working with children in New Guinea, John M is a Gold Medal Olympian and International and Commonwealth Games shooter, and John I is Australia's foremost child psychologist.