Santa on the Water
It's Christmas on the Island
5pm Sunday 23 December 2018
Santa will be back on the water this Sunday 23 December,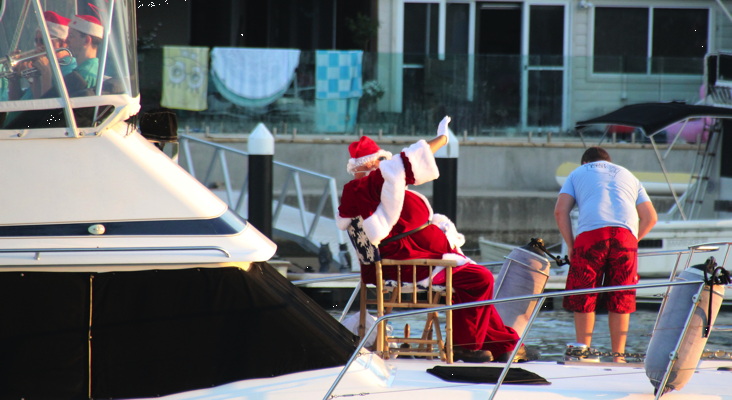 motoring around the canals and waters surrounding St Huberts Island.
Along with some of his Helpers and the Brisbane Water Brass Band, Santa will board "Doctors Orders" skippered by Rod Wenzel and aided by various minions.
The trip begins at about 5 pm from Marina Cove. Any boats can join the flotilla either in Marina Cove before 5pm, or anywhere around the path of Santa.
Santa will take his maritime sleigh clockwise around the Island to Sandy Cove/Sandy Inlet, entering all canals then turning back to Marina Cove.
There are many vantage points if you choose not to take your boat out to watch him motor past.
Travelling clockwise from Marina Cove are these viewing areas shown as:
Marina Cove - Marina View, between No 4 and 6 - public access
Marina Cove - Marina View, between No 38 and 40 - public access
Luderick Ave boatramp
Trial Inlet - Helmsman, between No 51 and 53 - public access
NE Brisbane Water - Salacia, between No 29 and 31 - public access
Crescent Cove - Barracouta, between No 4 and 6 - public access
Long Arm Parade Reserve
NE Brisbane Water - Long Arm, between No 18 and 20 - public access
Nannygai Inlet - Barracouta, between No 3 and 5 - public access
Island bridge - bottom and top
Shelter Cove - Helmsman, between No 40 and 42 - public access
S Brisbane Water - Cuttlefish, between No 31 to 33 - public access
Solstice Park
W Brisbane Water - Mercator, between No 30 and 32 - public access
Sandy Inlet - Heron, between No 4 to 6 - public access
Sandy Cove

- Helmsman, between No 52 and 54 - public access