SunsetSips 2021#2
Attunga SOLSTICE Park
Saturday April 3 - 5 4:30pm
[NOTE Venue and Time Change]
---
[Advance Notice]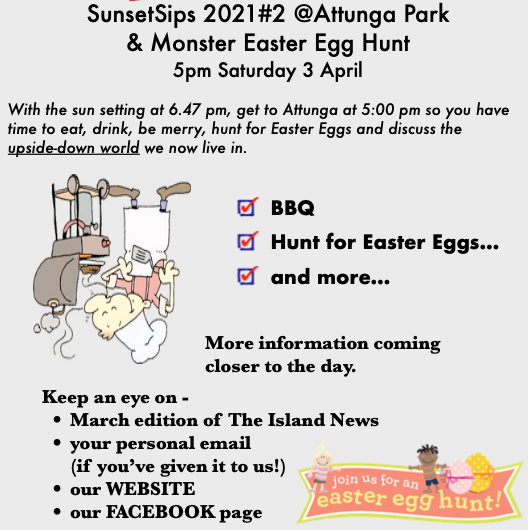 ---
[FINAL NOTICE]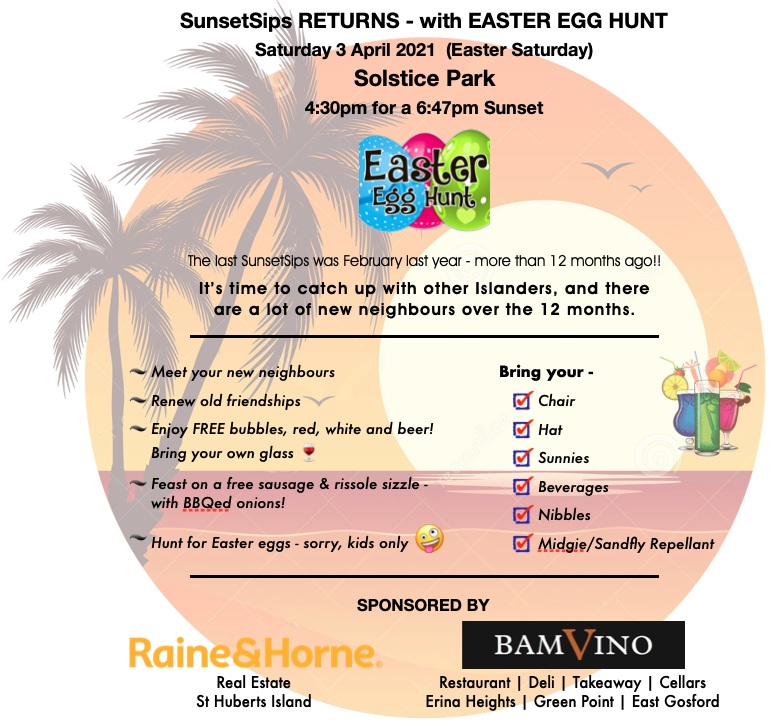 ---
REPORT
PHEW... AT LAST... the Island has finally had a SunsetSips after many attempts!!!
The weather turned on - sunny with a smidge of cloud, gentle breeze, just the right temperature, mozzies behaved themselves and the midgies were few and came in late and briefly.
This is the Island's first social event in over 14 months - the last being the SunsetSips @ Attunga on 15 February 2020.
With Daylight Saving ending early the next morning, this was the earliest sunset for the season so starting at 4.30pm for a 6.47pm sunset was essential to get Islanders relaxed, fed and watered before dark.
People started turning up quite early and the BBQers were a little worried we didn't have enough food ready in time... but no-body wanted food!
It looked like they all wanted to talk to each other - almost as if they had been "isolated" for over 12 months due to the effects of a virus!
The most popular table at this stage was the refreshment area stocked by Raine&Horne and some wonderful "Italian" wines courtesy of BamVino - both organisations having strong links to the Island.
At last, and seemingly in one movement, the BBQ area was swamped by hungry Islanders and their guests wanting to augment their refreshments.
And the evening was off and running...
The only hiccup of the evening was the Monster Easter Egg Hunt!
In a fit of organised preparation before refreshments and food, the eggs were salted in all their craftily hidden positions around Solstice Park... TOO EARLY!!!
Once word spread quietly amongst the "interested parties", most were collected before the Hunt could be properly executed.
Oh well...
The remaining eggs were then distributed amongst the appropriate people so (hopefully) all benefited from this modified hunt.
The last formal part of the evening occurred when the Sunset while all were Sipsing.
Not as-good-a-sunset as seen in the past (they are all buried here), but who cares.
Old Islanders, New Islanders, Family and Visitors all enjoyed this successful "meeting" of over 90 people in delightful surroundings.